SHIPWRECKS/2017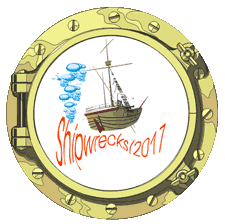 The Niagara Divers' Association will present its 23rd Annual Shipwrecks Symposium, "Shipwrecks/2017" on Saturday, April 1, 2017 at Centennial High School, 240 Thorold Road, Welland, Ontario. This is the same location we have used for the last 20 years and features an 1100 seat auditorium with theater style seating and an excellent sound system.
As in the past, we have plans for numerous multimedia presentations by both world renowned and local speakers. Lunch, refreshments and door prizes will be included. Speakers will have tables and meet with guests during breaks and lunch. A display area is available for non-profit diving related groups and Gold Level sponsors.

Planning for our 23rd annual one-day symposium on shipwrecks, Shipwrecks/2017 is complete.
ALL PRIMARY PRESENTATIONS HAVE BEEN SELECTED AND ARE NOW POSTED ON OUR SPEAKERS & PRESENTATIONS PAGE.
SHORT PRESENTATIONS REQUIRED
We are still looking for several short, 5 minutes maximum, presentations (primarily to introduce new topics or presenters). All presentations should be shipwreck-related and we try for an even split between recreational and technical topics.

Please forward a brief overview of your presentation and a brief biographical sketch to the Shipwrecks Committee at: InfoShipwrecks