Jim Garrington
Jim was born and raised in St. Catharines. He attended Governor Simcoe Secondary School, where he first learned to scuba dive. After completing high school, Jim was ready to make his mark on the world. He opened his own photography business, and taught photography at Niagara College in Welland. In 1980, he moved to Toronto to pursue a career in research and development in the professional photo finishing industry and while in Toronto, was actively involved in the scuba community. In 1984, Jim registered Shark Marine, which now has a world-wide client base. Jim has become known throughout the oceanographic industry as an honest and reliable individual with a multitude of talents. He loves a challenge and never backs away from solving a problem. Jim has proven his ability as a major manufacturer of high technology equipment. Along with his consulting skills, his strengths are not only in designing and building the equipment, but in expertly operating the equipment on a job site. He is a member of the Ontario Marine Heritage Committee, the Marine Technology Society, the Oceanic Engineering Society, and IEEE. Jim was nominated in 1999 for Casino Niagara's Corporate Citizenship Award and Niagara's Entrepreneur of the Year.
Jim has done consulting for engineering firms, navies, governments, search and rescue, marine biologists and other companies and agencies. He has lectured at trade shows and universities, and has developed training programs for search and recovery, underwater vehicles, and sonar systems. His list of achievements continues to grow with each year that passes.
From Tape Measure to Laser Technology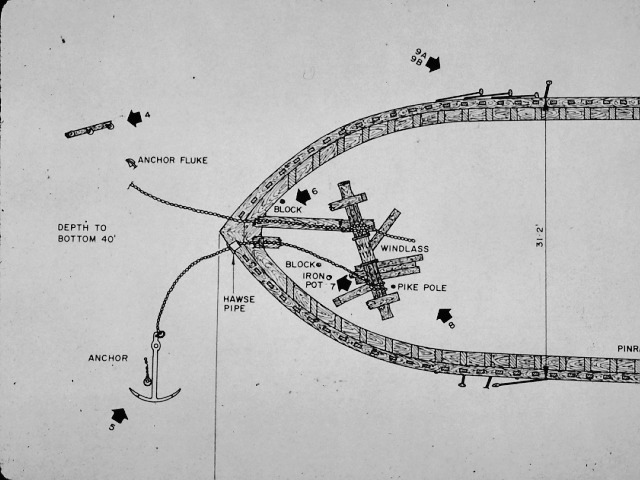 This program will review traditional techniques for recording shipwrecks and progress to an examination of techniques employing hi-tech equipment. The speakers will focus on two shipwreck studies undertaken by members of the Ontario Marine Heritage Committee; the first in Lake Erie during the mid 1980's on the Port Stanley Wreck, and the second conducted in Lake Ontario on the City of St. Catharines Millennium Wreck (Tiller Wreck) off Port Dalhousie more recently.
Our Master of Ceremonies David Gilchrist will be joining Jim in this presentation.
The Shipwrecks Committee requested that Dave & Jim put this program together as a direct result of feedback obtained from last year's after show survey.