The Dredge Munson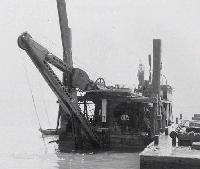 History
On April 30, 1890 the Dredge Munson, while under tow by the tug Emma Munson, began to take on water and list to one side. Her three man crew was taken off by the tug and the tow lines cut as she sank. A hardhat diver later declared the vessel unrecoverable.

The Dredge Munson was being towed westward from Kingston to work on a new bridge in the Bay of Quinte. She sank about six miles west of Kingston, just off Lemoine Point. She now rests in 115 feet of water and the site is marked with a permanent mooring line maintained by Preserve Our Wrecks (POW) Kingston.

Current Description
The site is unique, in that like most of the other Kingston area wrecks, she has not been stripped. In fact, many artifacts found on or around the wreck have been laid out for all to see. Plates, cups, saucers, bottles and tools have been placed on the top deck next to the generator. The lower level contains old steam machinery and a workbench complete with tools and vise. The steam shovel has fallen on its side at the stern of the vessel.

Underwater Photograghs
Munson's Top Deck (15K)
Munson's Generator (29K)

Tools on Workbench #1 (15K)
Tools on Workbench #2 (27K)

Munson's Steam Shovel (16K)

Article by Ian Marshall
This page and all contents, are Copyright © 1996 by ADVANCED/TECH DIVING INSTRUCTION (permission grantedto NDA)