| | | |
| --- | --- | --- |
| | The Niagara Divers' Association (NDA) was founded in 1988 and currently has about 50 members from around the Niagara Region (Niagara Peninsula, Ontario, Canada). We have one of the most ambitious dive schedules in Ontario. Just about every weekend from Mid-May to the end of September, we're somewhere in the Southern Great Lakes. We cater to all levels of divers, and are one of the very few clubs that offers challenging diving to even the most advanced of divers. From Novice to Trimix, we have something for everyone. In the spring, we host our annual SHIPWRECKS Symposium. | |
Dive Schedule
Club Photos
Dive Sites
Lake Erie Mooring Project
Meetings
Membership Information
Niagara River - Lake Sturgeon Project
Social Events
Members Only Section
Hamilton & Scourge Survey Update & Remembrance
Add Name to Dive4aCure or Shipwrecks Mail List
Other Scuba Home Pages
Contact NDA

SHIPWRECKS/2016
The Niagara Divers' Association will present its 22nd Annual Shipwrecks Symposium, "Shipwrecks/2016" on Saturday, April 9, 2016 at Centennial High School, 240 Thorold Road, Welland, Ontario. This is the same location we have used for the last 18 years and features an 1100 seat auditorium with theater style seating and an excellent sound system.
As in the past, we have plans for numerous multimedia presentations by both world renowned and local speakers. Lunch, refreshments and door prizes will be included. Speakers will have tables and meet with guests during breaks and lunch. A display area is available for non-profit diving related groups.

Planning for our 22nd annual one-day symposium on shipwrecks, Shipwrecks/2016 is complete.
ALL PRIMARY PRESENTATIONS HAVE BEEN SELECTED AND ARE NOW POSTED ON OUR SPEAKERS & PRESENTATIONS PAGE.
SHORT PRESENTATIONS REQUIRED
We are still looking for several short, 5 minutes maximum, presentations (primarily to introduce new topics or presenters). All presentations should be shipwreck-related and we try for an even split between recreational and technical topics.

Please forward a brief overview of your presentation and a brief biographical sketch to the Shipwrecks Committee at: InfoShipwrecks
Dive For a Cure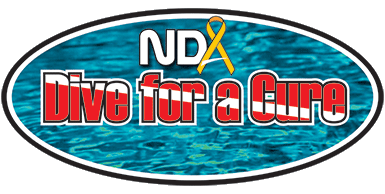 The 5th annual NDA Dive for a Cure event was held October 5, 2014 at the Welland Scuba Park. $10,700 was raised thanks to all the registered divers, bubblewatchers, volunteers and sponsors.

The first four years we raised $7500, $8500, $9000 and $10,000 respectively, which we donated to the Canadian Cancer Society through registrations, donations, food sales, etc.

This brings our five year total to $45,700 !!
We regret that this event is not proceeding this year. We hope to resume in 2016.